Shopping Trip
As a supplement to the Jogger's Coupon Tutorial that I'm working on (I promise, I'll have part II finished soon), I thought it would be fun to start posting my shopping trips. So, here is the first installment!
Disclaimer: This shopping trip occurred between 9:00 and 10:00PM on a Sunday night. I was tired. I didn't feel like hitting more than one store, so I hit just one store. Had I been a more responsible, prepared, money-saving couponer, I would have properly planned my attack and allowed myself at least 2 hours so that I could traipse around town and hit 2 or more stores. However, I ran 5 miles yesterday morning, then spent 3 hours studying for my CPA exam, in addition to laundry, cleaning, etc. I was tired. And did I mention that I was tired? So, although I am personally not all that impressed with my grocery-saving performance (because I know my own track record), I realize that it is still a significant savings. Thus, I share.
I love disclaimers.
The proof.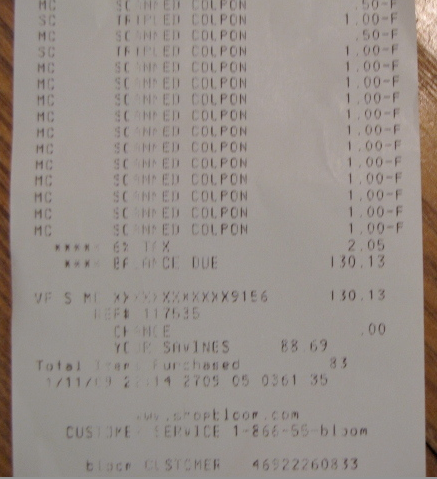 The stash.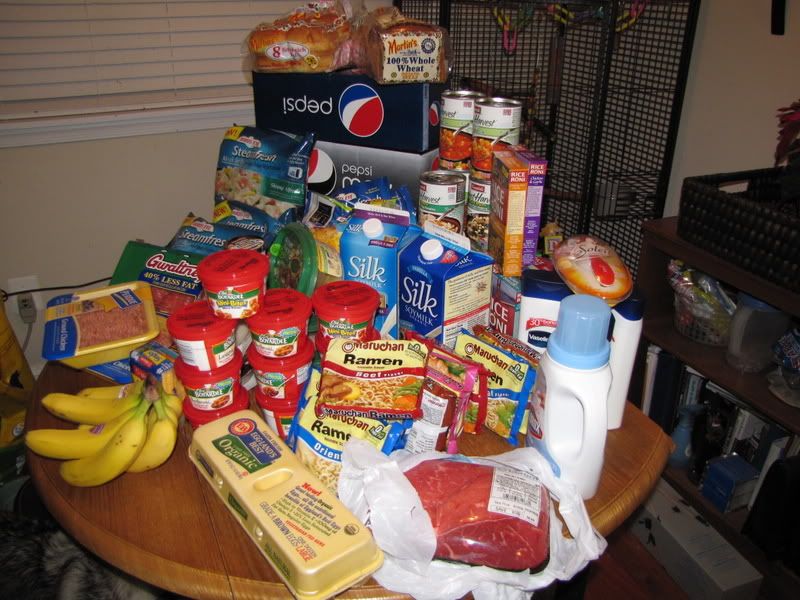 Remaining stash, that I accidentally forgot to unpack from the bag because it was hiding under the table, and I didn't realize it was there until I saw Maya sniffing it. Oh, and my 4′ tall register receipt. No, really. It's actually 4′ tall.
Also missing from all of these pictures is the 100 Fl. Oz Gain detergent that I forgot in the trunk of my car. Hopefully it's not leaking all over my frivolously expensive, pre-divorce sub woofers. I think that's what they're called.
Here's the breakdown.
The Golden Children (on sale, had a Q):
-Birdseye Steamfresh sweet corn
-Birdseye Steamfresh broccoli
-Birdseye Steamfresh green beans
-Birdseye Steamfresh shrimp alfredo meals for two
-Birdseye Steamfresh shrimp pasta meals for two
-Birdseye Steamfresh grilled chicken meals for two
-2 Kozy Shack ready grains
-2 Silk Soymilk
-Healthy Choice Fresh Mixers ziti
-Healthy Choice Fresh Mixers sesame chicken
-Healthy Choice Fresh Mixers szechuan noodles
-3 Gatorade Powder sticks
-10 Rice-A-Roni
-3 Smart Balance peanut butter
-10 Chef Boyardee microwave jobbys
-8 Campbells Select Harvest soup
-1 Bic Soleil razor
-1 dozen Eggland's Best organic eggs
-4 Vaseline Intensive Care lotion
The Red-Headed Stepchildren (no Q's):
-2 Orville microwave popcorn (on sale, but no Q)
-1 Sirloin tip roast (on sale, but no Q)
-2 packages (1# each) Purdue ground chicken (on sale, but no Q)
-2 Gualtney low sodium center cut bacon (on sale, but no Q)
-10 Ramen noodles (on sale, but no Q)
-1 bag potatoes (on sale, but no Q)
-1 Gain laundry detergent 100 Fl. Oz (on sale, but no Q)
-1 bunch of bananas (on sale, but no Q)
-10 Ambrosia apples (on sale, but no Q)
-1 Diet 7UP 12 pack (on sale, but no Q)
-1 Pepsi Max 12 pack (on sale, but no Q)
-1 Diet Pepsi 12 pack (on sale, but no Q)
-1 Clorox bleach (on sale, but no Q)
-3 Ben & Jerry's mini single serve ice creams (NOT on sale, NO Q, but they are so cute!
-1 package Bloom American cheese singles (NOT on sale, NO Q, but I love grilled cheese!)
Sidebar: I wouldn't normally buy as much PWT food as was on this trip, but I am all about convenience at the moment. Running and studying is time consuming, and there's no time to cook when I get home at 9PM. Unless I have planned ahead with my Crock Pot.
Crock Pot, I love you.
Sidebar: I will run to Bottom Dollar this week for some of their meat deals, but I won't have to do a full-on grocery shopping trip again for at least 3-4 weeks because I still have tons of stuff in my freezer and cabinets that are left over from my last 2 shopping trips.
The Conclusion: More than anything, this proves that even if you have coupons for only 1/2 of the items that you are buying, you can still save a nice chunk of change by just shopping the sales.